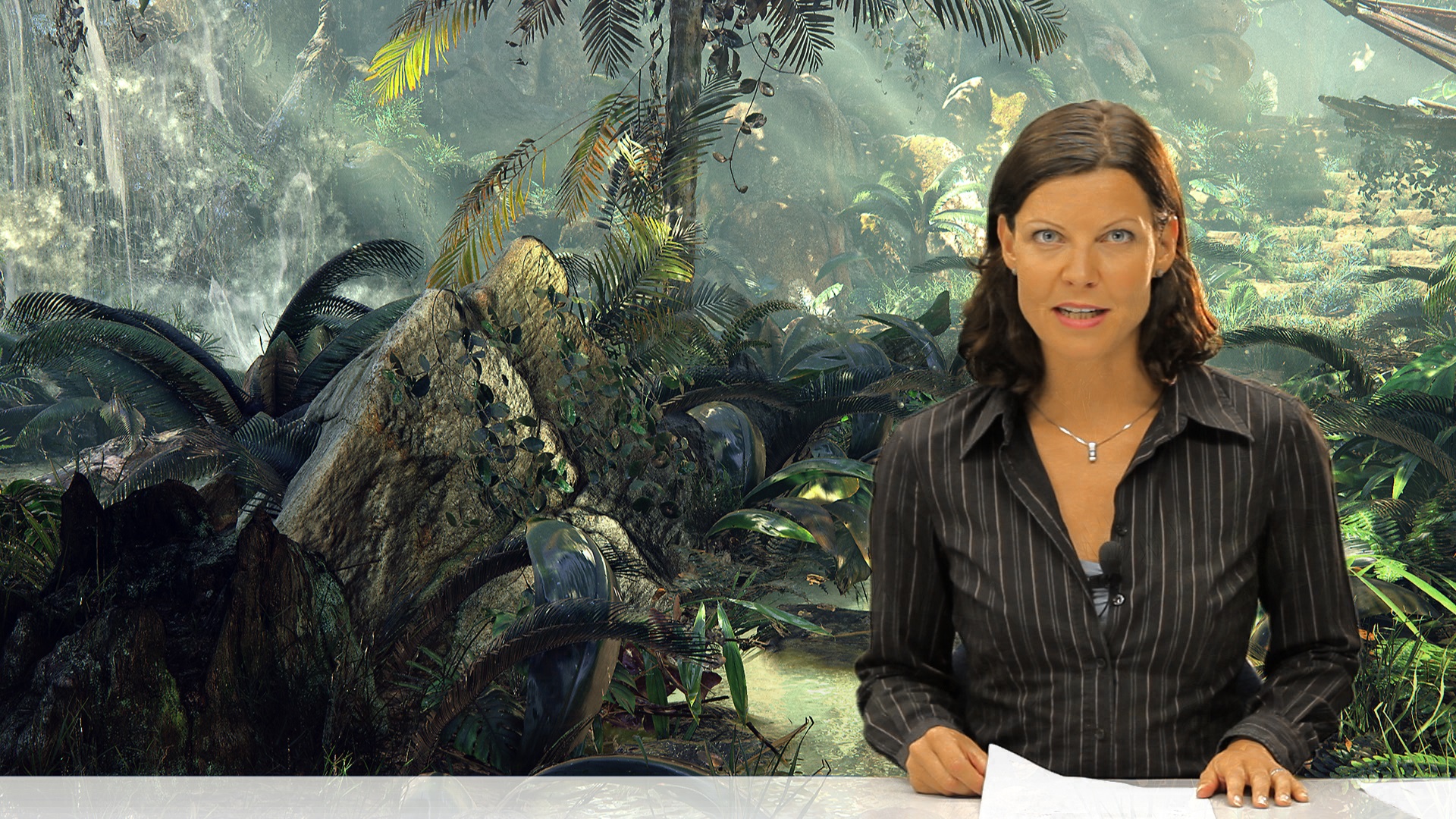 Virtual Set Technologies: Defining A New Film Reality
By admin In Uncategorized On March 25, 2016
---
By Julia Leescu
As a film professional, even just 5-7 years ago could you imagine executing your TV show's shoot while sitting in a room on another continent? Any crazy crew combination or set element combination is possible with the new virtual sets packages like TriCaster Advanced Edition and in this article I'd like to share lessons learned from my virtual sets experience and related technologies.
When Sophia, a long-term client, has decided to relocate from New York to her inherited family property in countryside US, we knew that our working style is going to change. That's when the TriCaster solution presented itself. With the help of this virtual set technology we could use the director from our European team, who would oversee everything that was happening in Sophia' s studio online and would be directing the multicamera production for the show, which usually involved Sophia and a couple of guests that she was interviewing in the studio.
TriCaster's interface is really intuitive: if you´ve used before any real-time mixers like dedicated television DVE or computer solutions like WireCast, TriCaster interface feels right at home. In the beginning, we´ve experimented with headroom and lighting and didn´t get our hands on changing the studio background yet. We´ve used the real-life basic decorations that Sophia had.
 The first setup looked something like that: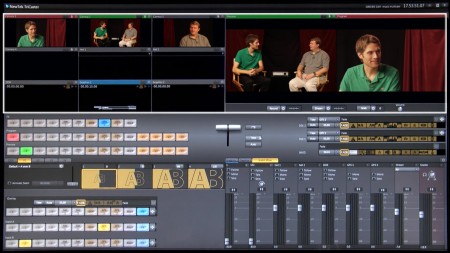 Camera 1 was on the host, Camera 3 was on the guest, and Camera 2 was the two-shot with both.
After doing the first tests, we have quickly decided to spice-up the show with adding some interesting backgrounds. Instead of investing into more props, we went for replacing the green screen with things that were related to each show topic: From jungle of Peru to Game of Thrones castles.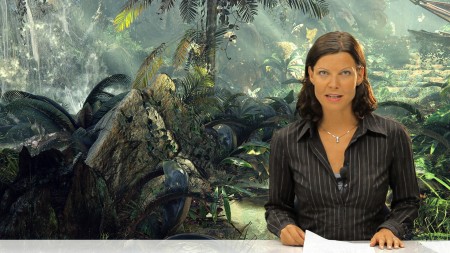 We've also tried enhancing our studio picture with dynamic backgrounds, but quickly had renounced that idea: You've got to be careful when adding more movement to your mix of real and virtual. For instance, having the moving background with the night sky, moon and stars were introducing too much of visual elements. It was somewhat confusion and borderline distracting. We ended up adding just some subtle movement in the background and simulating TV flicker to enhance the realism of the scene.
After a week of experimenting, we've found our own style: High-key lighting, 2 or 3 cameras, which were sometimes moving, and a set of interchangeable ten custom-designed studio backgrounds. Of course, we have hardly used all the possibilities that our version of TriCaster had to offer, like 8 live camera inputs or 10 animation buffers that help you to mix graphics, but, hey, you´re welcome to explore them further with your live TV production!
There are, however, some universal TriCaster advice that might just work for everyone. Here is a short list of super-tips that is relevant not only for TriCaster productions, but other similar green screen and virtual set productions:
There is no compensation for loss of resolution, so shoot at the maximum resolution possible on your camera. We used 1080p HD for Sophia's show. I'd recommend shooting with Sony FS7 at 4K and then down-convert it to HD; that makes compositing smoother and can hide texture issues your on camera talent clothing might have.
Use the same light scheme on your talent as you have used on the virtual set, so the two parts composite seamlessly. Have a strong sense of how does light come into your scene on both plate and background before starting to set them up. Mismatching the lighting is by far the biggest and most glaring mistake people make when working with virtual sets.
Have an additional light or two on stand-by when you create the set, as matching is never perfect on the first try. Fiddle around with fill, key and kicker (especially kicker – see in our jungle example how the light from the virtual set is set up as a kicker for the talent's hair).
If your cameras can be commanded remotely (TriCaster allows for IP cameras to be set up), check the limits of your movement and zoom well in advance of recording time. The illusion of continuous space can be easily enhanced by choreographing movements of camera and virtual set in the same time (and this is done beautifully in TriCaster video system), but physical limits or misalignment can be a dead give-away of the artificial composition. Make sure your on-camera talent knows what are his/her movement limits so this illusion is not accidentally broken. If your talent is "missing" a hand nice & easy is not how you're going to describe your post.
The software has the ability to save setups, so once you are happy with the way you have placed your cameras and composited the backgrounds, lock them in for future use – you will only need to match positions of previous recordings. This is super-handy for weekly shows like the ones we did, and for testing out variations of the setup with just a few keystrokes.
For added fun, try inserting not just music, but an ambiance track over the realtime recording, it will make your set come to life! 🙂 Just keep the levels in check and make sure this is suggested, not emphasized.
Last but not least, avoid the little mistakes we've done in the process of developing our style: Verify if your on camera talents are wearing proper makeup and screen-friendly clothes (if they, for instance, wear stripped clothes, your picture might flicker). No green clothes is self explanatory but green in the accessories your on camera talent is not so much, make sure your talent isn't wearing any green jewelry or belt. Make sure  each camera cuts smoothly to another and make sure you role the camera before your show participants start the action.
Enjoy your new professional production with the magic of virtual sets!
---