New York Sound Stages – Studio 5G
New york sound stages – studio 5g
Studio 5G is a soundproof studio ideal for corporate video production, interviews capture as well as television productions, small scale theatrical filmmaking, and more. Conveniently located in Midtown Manhattan.
Studio 5G layout: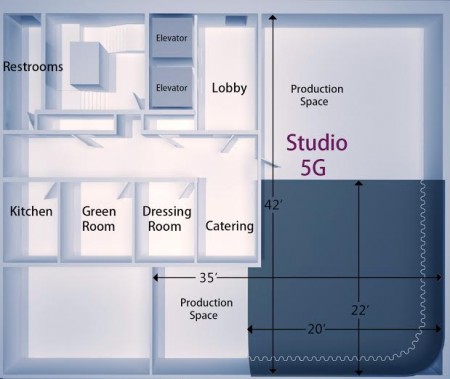 Address: 229 W 28th Street, 5th Floor (between 7th and 8th Avenues)
$1,800 / day (10 hours)
Prelit with Kino Flo lighting
42' long
12′ to ceiling, 11′ to grid
Separate make-up room
Green room for talent and guests
Support facilities for all stages of production
24/7 freight elevator access, with loading dock
WiFi
Stage manager
Video Production Add-ons
Call (929) 242-9445 or email [email protected] for sound stage availability and bookings.
Click to enlarge