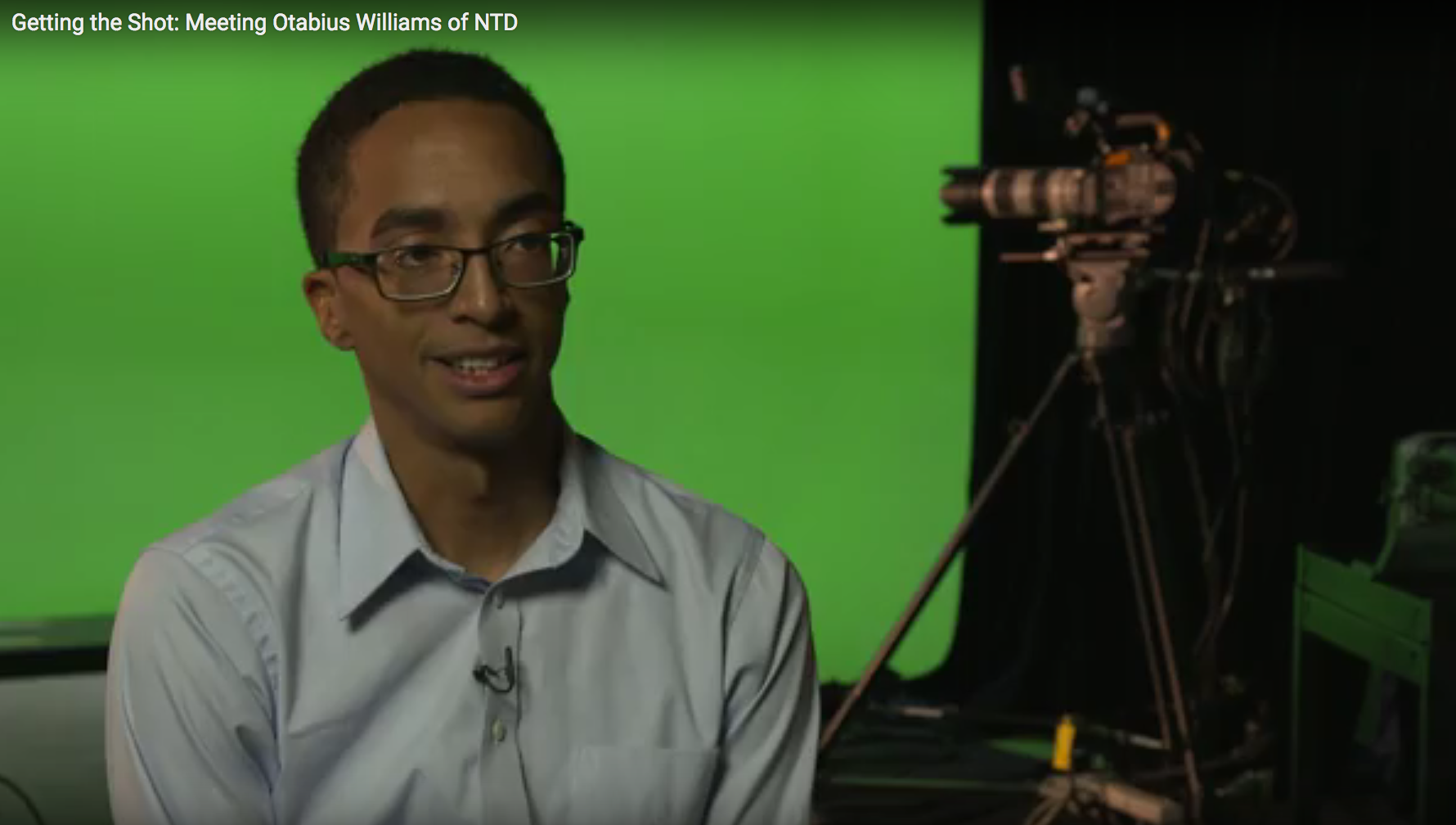 Getting The Shot: Meeting Otabius Williams of NTD
By Ben Larkman In Behind the Scenes On September 13, 2016
---
Otabius Williams is a creative videographer here in New York City. He tackles three-four green screen and virtual set shoots every week. In this video Otabius shares a funny on-set story, what he likes about video production world, and challenges of his most recent New York Magazine virtual set shoot.
Hi I'm Otabius Williams, I'm a videogpher here in NYC. We just finish a shoot with New York Magazine and Bravo Network. They were shooting for their website, for New York magazine website. Basically having a talent walking across the screen, from left to right.  We have a TriCaster 8000 here and that allows you to have live keying and virtual sets. So we just had a background played up of the website and basically worked on the blocking with them. With that live, it really helped a lot.
WHAT WERE THE CHALLENGES OF WORKING ON THE PROJECT?
One of the challenges that we faced was with the size of the space. We had to kind of fit that, basically match it to the website.
With the lighting it was a bit easier and we had a little more flexibility because here at Big Apple Studios they have a lighting grid. We ended up using a bit of grip equipment to rig a light just out of the frame to add some fill.
WHAT FACTOR  WAS KEY WORKING ON THIS PROJECT?
Communication was key. New York Magazine had a very creative team who came over and were working with us to try to figure out what was the best way to bring forward this project.
WHAT DO YOU LIKE ABOUT YOUR JOB?
One thing I like about my job is that I get to work with a lot of people, from all kinds of different backgrounds and do all kinds of different production jobs.
Particularly I'm interested in lighting and making people look GOOD. And being here I get to see a lot of different ways to do that.
FUNNY STORY
A gaffers I met on one of the shoots was telling how he was working on set in Los Angeles. This gaffer told all his grips to take out bulbs for Kino Flos  and so they basically lined up and everyone had like two bulbs in each hand it's like four foot long flourescent tubes and they were just like shaking them, because the gaffer told them to shake them. And then he was away and then the gaffer comes back and he sees all grips shaking them and he's like, "No! You're shaking them wrong, you got to shake them faster." So you just see this line of grips shaking these bulbs, it's like whats going on here. Because, I guess doing that makes chemicals react and make it brighter. But it's just a funny picture.
CHALLENGES WITHIN YOUR JOB
Very often you either very busy doing something or very busy waiting to do something. So sometimes in those situations, even though you're not necessarily being asked to do something, you have to be standing by.
WHAT ARE THE REWARDS WITH YOUR JOB
I find bridging that gap between an idea the client has, what they want to achieve and helping them to really figure out how to do that. There's not really any special way about it just kind of you know starting from scroll (i'm not sure) one and just going forward.
WHAT ADVICE WOULD YOU GIVE PEOPLE STARTING OUT IN THE BUSINESS
Being persistent and not letting things set you back.
---